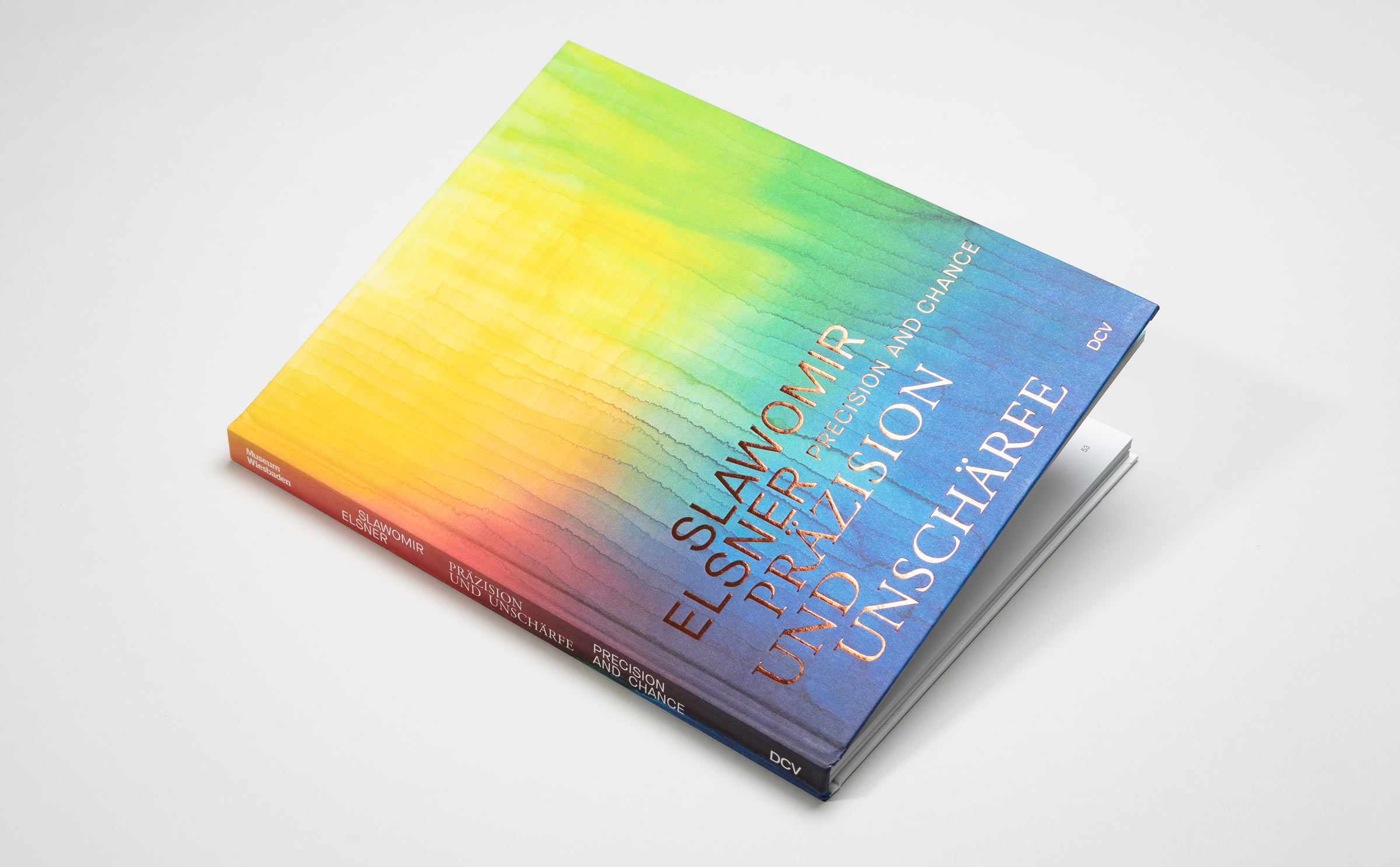 Slawomir Elsner
Precision and Chance
| | |
| --- | --- |
| Editor(s) | Andreas Henning, Lea Schäfer, Museum Wiesbaden |
| Author(s) | Anne-Marie Bonnet, Andreas Henning, Nikolas Werner Jacobs, Nils Ohlsen, Lea Schäfer |
| Design | Margarethe Hausstätter ExtraGestaltung |
| Cover | Hardcover |
| Size | 22,5 x 28,5 cm |
| Pages | 144 |
| Illustrations | 397 |
| Language(s) | German, English |
| ISBN | 978-3-96912-061-3 |
Complex Processes of Abstraction
International audiences know Sławomir Elsner (b. Wodzisław Śląski, Poland, 1976; lives and works in Berlin) for his naturalistic paintings and abstract watercolors, but it was his brilliantly executed colorful drawings that made him famous. The technique of his work in crayons is as formidable as it is singular and underlies his many adaptations of legendary works from the history of painting that seem blurry but are actually drawn in accurate lines.
More generally, Elsner's art probes the effect of different media and the stories they tell. He interrogates the images they transport and challenges the consumers to subject their own visual experiences to a similar critical review. Do pictures represent reality or distort it? That is the question that guides his inquiries.
Elsner works almost exclusively in series. What makes this book special is that it includes an index in which eleven of these bodies of work are reproduced in their entirety. The Old Masters series alone comprises 143 works made in the years after 2014. It is complemented by the series Windows on the World (2008–2010), Feuerwerk- und Luftabwehr (2004), Unsere Sonnen (2004–2005), the watercolors of Tagstücke and Nachtstücke (2014–2021), and others.
Many of the works frame accidents, disasters, wars, nuclear tests, or other horrible events. By harnessing the means of art to detach their depiction from a documentary setting, Sławomir Elsner achieves an unrivaled degree of aestheticization; his works are fascinating at first glance, only to fill the beholder with a creeping dread.