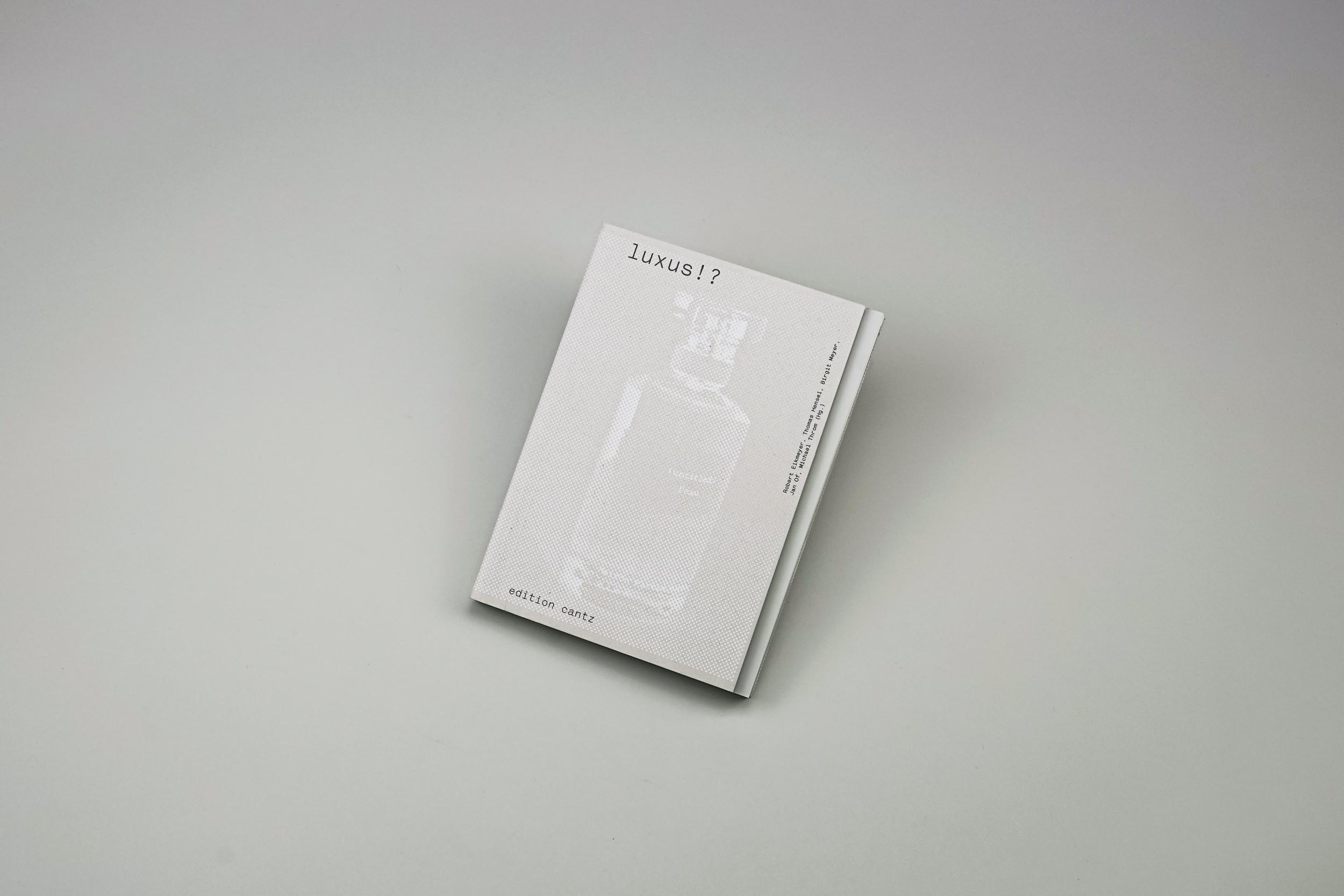 Luxus?!
| | |
| --- | --- |
| Editor(s) | Birgit Meyer, Fakultät für Gestaltung der Hochschule Pforzheim, Jan Of, Michael Throm, Robert Eikmeyer, Thomas Hensel |
| Author(s) | Bazon Brock, Jake Chapman, Jonathan Meese, Olaf Nicolai, Raphael Fellmer, Robert Eikmeyer, Susanne Kaufmann, Tobias Rehberger, Valentin von Arnim, Wolfgang Ullrich |
| Size | 17 x 23 cm |
| Design | magma design Studio, Karlsruhe |
| Pages | 248 |
| Illustrations | 110 |
| Cover | Softcover with flaps |
| Language(s) | German |
| ISBN | 978-3-947563-20-3 |
What is luxury today? How do designers perform the magic of transforming a utilitarian object into a must-have? Where does consumerism shade into obsession? When does more-is-more give way to less-is-more?
Luxury means breaking with convention, and this book showcases—and spawns—a cornucopia of ideas, products, and positions around luxury, featuring influential thinkers from the worlds of design, science, art, and society. The cultural theorists Wolfgang Ullrich and Lambert Wiesing exchange letters on the concept of luxury; Montblanc's creative director Zaim Kamal lays out future strategies; the artist Jonathan Meese pens a gold manifesto; and Bazon Brock inquires into the asceticism of luxury. We live in a world full of things that resemble one another so closely that the only difference is how they are marketed. What might the precious objects of the future look like? The book presents examples from aspiring designers such as the fashion student Victoria Reize, whose collection counters luxury with arch defiance. Design, we learn, is not just about creating supreme values. Luxury is limitation and longevity, scarcity and refinement, yearning and sensuality.
With works by Assemble, Jake and Dinos Chapman, Daniel Chodowiecki, Kai Löffelbein, Jonathan Meese, Olaf Nicolai, Marcel Odenbach, Tobias Rehberger and Anna Skladmann.
Out of stock
Out of stock