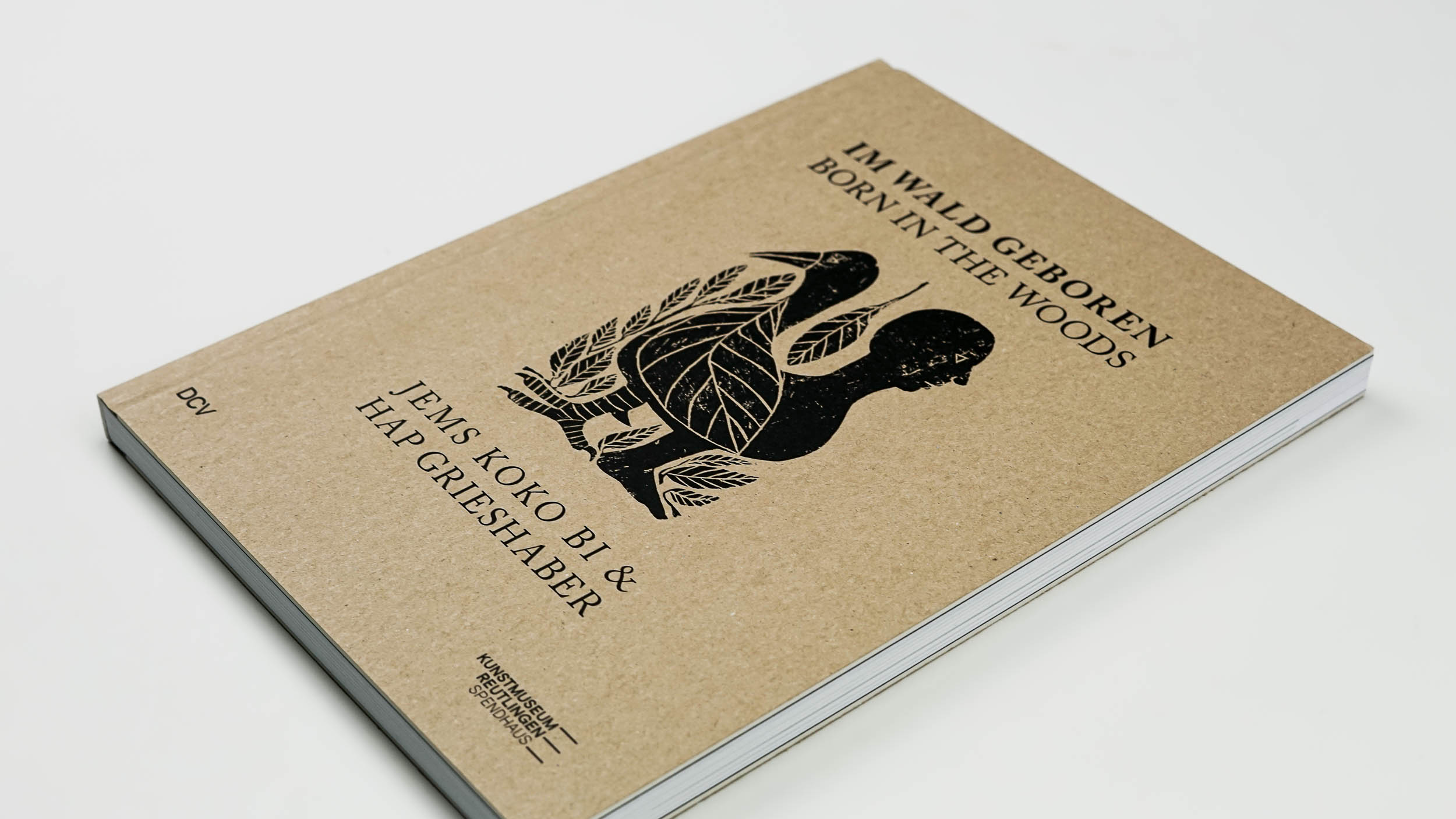 Born in the Woods
Jems Koko Bi & HAP Grieshaber
| | |
| --- | --- |
| Editor(s) | Ina Dinter, Kunstmuseum Reutlingen |
| Author(s) | Susanne Altmann, Yacouba Konaté |
| Design | Andy Schmidt |
| Cover | Hardcover |
| Size | 20 x 27,5 cm |
| Pages | 116 |
| Illustrations | 46 |
| Language(s) | German, English |
| ISBN | 978-3-96912-011-8 |
The Political Substance of Wood
Jems Koko Bi (b. Sinfra, Côte d'Ivoire, 1966; lives and works in Kaarst, Germany, Dakar, and Abidjan) is world-renowned for the monumental wood sculptures he creates using a machine saw. This book juxtaposes his most recent body of works with the large-format woodcuts of HAP Grieshaber (b. Rot an der Rot, Germany, 1909; d. Eningen unter Achalm, 1981). Although the two artists never met, their oeuvres are characterized by similar themes, values, and materials. The central concern is the fate of the forests and its momentous political and social implications: Grieshaber's woodcuts articulate his principled opposition to the predatory exploitation of nature in the 1970s—an issue that is more relevant than ever today in light of the climate crisis and the Fridays for Future movement. Koko Bi's figural groups bring this tradition of political art into our time, making a global and universally compelling case for a sustainable husbandry of our resources.
Jems Koko Bi studied at the Institut National Supérieur des Arts et de l'Action Culturelle (INSAAC), Abidjan, and the Düsseldorf Academy of Fine Arts. His work has been exhibited widely, including at the Centre Pompidou, Paris; at documenta 13; the Havana Biennial; and several Venice Biennials and Dakar Biennials. In 2019, he founded the forest biennial Abidjan Green Arts.
HAP Grieshaber studied advertising art at the Staatliche Kunstgewerbeschule, Stuttgart. His work is regarded as a signal contribution to the renewal of the woodcut medium in the twentieth century. He participated in documentas I, II, and III, held a professorship at the State Academy of Fine Arts Karlsruhe, and was honored with numerous awards and retrospectives.