You cannot add "Welt ohne Inventar" to the cart because the product is out of stock.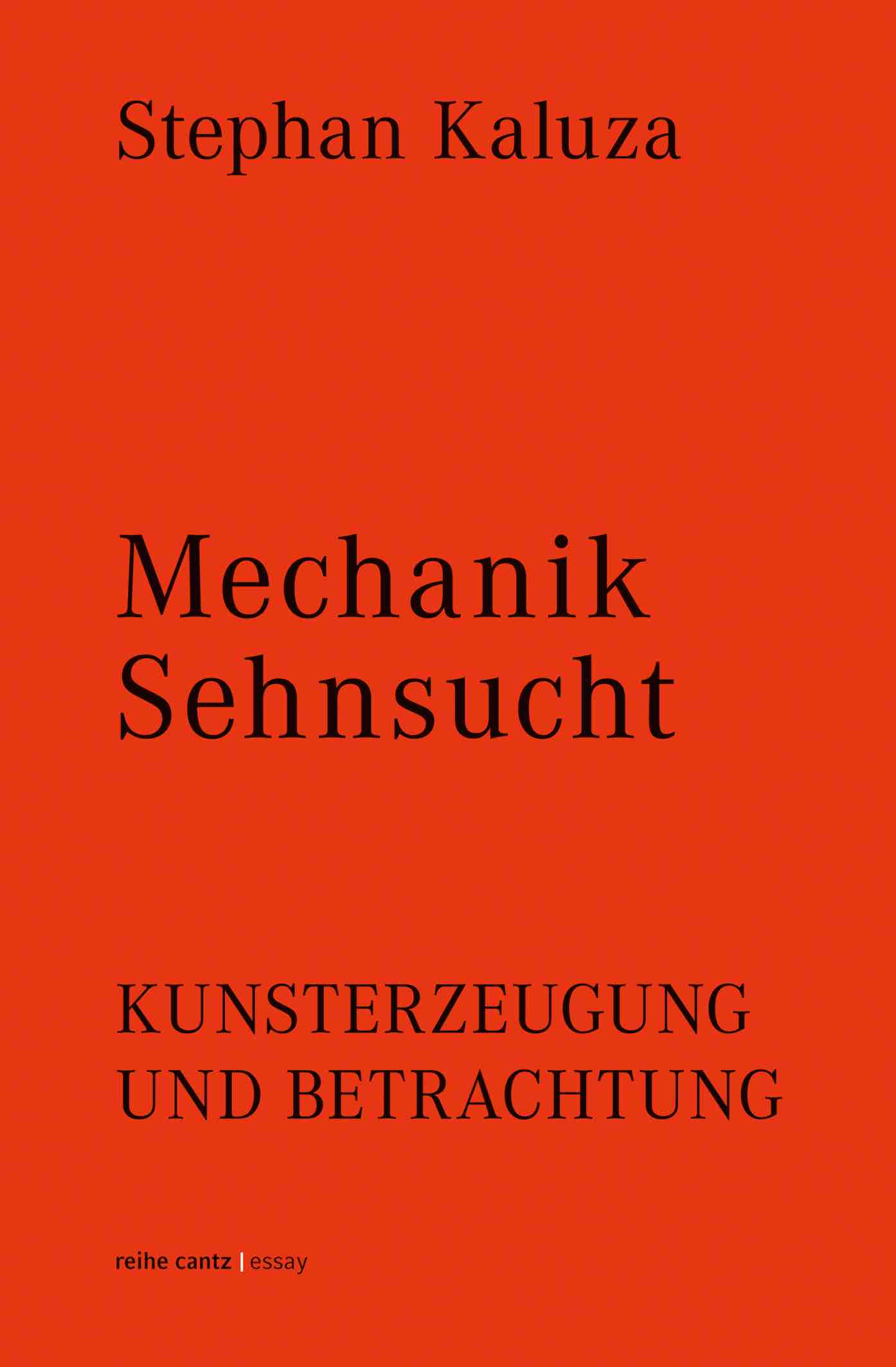 Stephan Kaluza
Mechanik Sehnsucht. Kunsterzeugung und Betrachtung
| | |
| --- | --- |
| Author(s) | Stephan Kaluza |
| Design | Kaisers Ideenreich |
| Cover | Softcover |
| Size | 12 x 18 cm |
| Pages | 180 |
| Language(s) | German |
| ISBN | 978-3-947563-38-8 |
Ungewohnte Antworten aus der Sicht des Kunsterzeugers
Die Frage, was Kunst ist und wie sie entsteht, wird gerne von denen beantwortet, die sie selbst nicht erzeugen. Die Betrachtung und Interpretation steht im Vordergrund und damit eine wissenschaftliche Distanz zur Kunst. Es gibt aber durchaus die Eigen-Betrachtung derer, die Kunst aktiv herstellen und naturgemäß einen inneren Blick auf die prozessualen Bedingungen haben, die überhaupt erst das entstehen lassen, was anschließend betrachtet und beurteilt wird. Diese Sichtweise ist nicht zwangsläufig identisch mit der von außen. Nicht die Interpretation oder eine deduktive Schlüssigkeit steht hier im Vordergrund, sondern ein ableitender und besonders ein schöpferischer Sinn, der sich aus dem Prozess des Kunstherstellens von selbst ergibt.
Die Arbeiten von Stephan Kaluza (geb. 1964 in Bad Iburg, lebt und arbeitet in Düsseldorf) wurden unter anderem im Ludwig Museum Koblenz, im State Contemporary Art Museum, Seoul, in der Kunsthalle Osnabrück, im Palacete des Artes Rodin, Salvador, im Museum on the Seam, Jerusalem, sowie in der KAI 10 | Arthena Foundation, Düsseldorf, ausgestellt.